Top 10 Ways to Unveil the Best Sources for Your Amazon FBA Private Label Venture
10 Ways on How to Find for Your Amazon FBA Private label business
Who would've want to burn their financial and time investment for nothing but loads of substandard products or overpriced items?
With 71% of cyber shoppers believing they will get better deals online  for their Amazon FBA Private label venture than in stores according to a Channel, we would also want nothing but the best products and supplies to provide them.
While the Internet provides leads to multiple manufacturers and traders worldwide, Alibaba & Amazon are still the platforms of choice for quality supplies at the best price.
But since Alibaba and Amazon itself have thousands of listed suppliers of all sorts, let's sort the best one out and let's get down to business to minimize the risk in engaging with horrible suppliers and be on top of Amazon FBA.
Certainly! Here are the top 10 ways to unveil the best sources for your Amazon FBA private label venture:
 1.Product Specifications
Before diving into the pool of endless list of suppliers and before anything else, it is best to prepare the specifications of the product that you intend to order and sell in Amazon FBA.
List down the best design, specs, materials in your mind including the order quantity and maximum budget because you surely want to be part of Amazon Private Label empire.
Some manufacturers are willing to provide products based on your given specs but some are not.
With the product specs in your hand, you may find a supplier who will make one for you or if not, you may use it as basis to look for the closest product available in the platform.
From this point, you may also set pre-qualification requirements such as the characteristics and location of your ideal company.
Note that not all suppliers will provide products based on your specs, if you want to create your own product from scratch, then you may want to work with an Original Design Manufacturer (ODM), but if you'll need only a few tweaks in an existing product, you may want to look for an Original Equipment Manufacturer (OEM).
 2.Refine your Search
After you have determined the specifications of your product, now is the time to get into the platform and refine your search keywords.
Use keywords that are fairly specific and avoid using broad terms.
If you are looking for a supplier of genuine leather belts, then search for 'Genuine Leather Belts' in the search bar instead of 'Leather Belts'.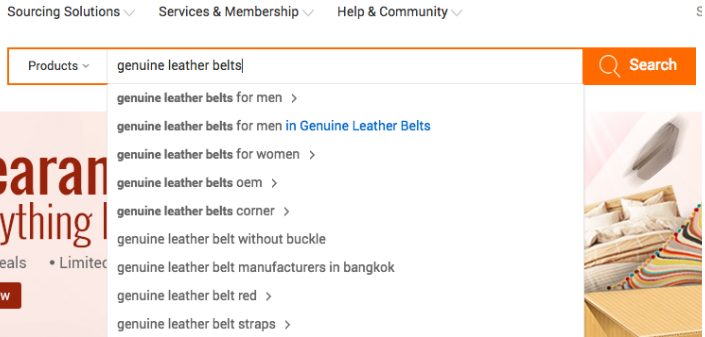 And from here, you may narrow down the list of suppliers based on location.
There are many regions in China that specialize in particular product categories.
But in general, Guangdong Province will be the location of most suppliers.
You can narrow down the list and try looking for suppliers in Guangdong, China only since factories there has been involved in international trades and has adapted to global standards.  
 3.The Gold Suppliers
Look for Gold Suppliers. In terms of supplier's ethical behavior and product quality, being a Gold Supplier does not mean a lot.
But what will we be able to get from here is that these Gold Suppliers are somehow verified by Alibaba since they are the platform's premium members who pay fees to have edge over non-Gold Suppliers.
Users will have an option to view products from Gold Suppliers only which may be ticked under the supplier types selection.
 4.Response Rate
Similar to any other online platforms, it should be a habit to check for the seller's response rate.
To avoid having problems communicating with suppliers, choose those who have more than 70% response rate.
It reflects the percentage of buyers the suppliers respond to.
Dealing with suppliers with lower response rate would be definitely be challenging. Response rate is available at the right side of each list item.
 5.Manufacturer Supplier
Getting your items from traders will cost you more than having your items sourced from manufacturers.
The best deals will always come from manufacturers; traders on the other hand base their price on the pass-on rate of manufacturers plus commission.
If you'll require bulk supplies at the best price, always resort to product makers; it is indicated in supplier home page on Alibaba.
 6.Verified Supplier Information
 Verified supplier information always gives us extra confidence to proceed with the transaction.
You do not want to end up having transactions with bogus suppliers or sellers who do not provide products as advertised.
While Alibaba does not verify the products, supplier information such as business type, location, year of establishment and more are typically verified by their personnel especially for China Gold Suppliers.
Verified marking can be seen at the right portion of the supplier home page.
 7.Factory List
After all the filters that you have set on your search for the best supplier, it's time to trim down the list of the chosen few.
Compile your list with the most essential information you'll need from them such as the company name, location, business type, number of employees, contact details, minimum order quantity, price, production lead time, and web address.
Your shortlist will not only help you to have a systemized way of reaching out to them but will substantiate information for your future need.
 8.Contact the Supplier
Since your preferred supplier has a good response rate based on your initial assessment, it is time to get in touch with them via the most effective way – Alibaba chat.
Chat with the supplier's customer executive for transaction details or for any information that you wish to clarify.
You may often time request for lower quantity than the posted high number of minimum order or even haggle for the best price.
You may also want to get their Skype ID once communication via Alibaba chat has initiated since the platform's chat system is quite slow and difficult to use.
Chat option can be prompted on the right side of the item's main page.
 9.Order Multiple Samples
Now that you have picked your supplier, it is time to request for samples before placing bulk orders.
Samples are not for free and are provided by the supplier in multiple pieces.
You may find this beneficial on your end, so take advantage and ask for similar products under the same category and in different packaging so you can choose among the shipped samples that best fits your requirements.
 10.Payment thru PayPal
The best way to conclude the transaction prior to shipping samples and bulk orders for Amazon FBA wholesale is to place payment thru PayPal.
PayPal does not only provide convenience but it is also reliable for troublesome transactions such as non delivery of ordered items because such issue may be raised with them.   
And there you have it 1– 10 of the most important things you need to know and consider in finding your best Alibaba supplier!
Remember that each one from the list supports the others. Have a successful search!
Looking for a fulfillment solution?