How to Unlock VIP of Amazon with Amazon Brand Registry
Amazon has fortunately been able to provide sellers with a plethora of tools to increase customer conversion, improve marketing efforts and effectively reach Amazon fulfillment needs. However, a strategic imperative that often gets lost in the crosshairs of this fast-paced market is the brand name a seller's products fall under. When effectively executed it can add credibility, authenticity and loyalty among customers but it can also come with the costs associated with protecting it from potential infringement's. Thankfully, Amazon can help alleviate these worries while assisting vendors with reaping the benefits through its Amazon Brand Registry program.
What is Amazon's Brand Registry?
Amazon's Brand Registry is a program that safeguards an Amazon Seller Central and Amazon Vendor Central's brand name and its associated products while simultaneously helping build a more cohesive brand image. Amazon Seller Central and Amazon Vendor Central accounts have the ability to protect their brand name and their reputation through Amazon Brand Registry's detection of any potential counterfeit products currently listed on the platform. In addition, the program assists with creating an established brand presence within a vendor's respective marketplace through tailored marketing and analytics reports.
The Benefits of Amazon's Brand Registry for Amazon Seller Central and Amazon Vendor Central Accounts
At first glance, Amazon's Brand Registry's value-add may not be very apparent. Vendors may be convinced it's a service that can't necessarily assist them in the selling and Amazon fulfillment process. However, when broken down, the benefits can be instrumental in converting customers and protecting the integrity of both their business and its products.
1) Regain Control of Brand Messaging
Through Amazon's Brand Registry members can control the following aspects of their product listings: the title, description, images used and establish a product ID. In addition, members have the ability to dictate and alter all messaging on product pages that feature their brand name.
2) Access to both Search Tools for any Brand References and Headline Search Ads
Amazon Brand Registry members will gain access to search tools that assist Amazon Seller Central and Amazon Vendor Central accounts with tracking any listings or mentions of either their brand name or product. These tools include:

A Global Search: This allows members to look at any content related to their product or brand that appears in different Amazon stores within the same page.
Image Search: Allows members to track any images of their products or brand logo that are featured on Amazon listings.
ASIN Search: ASIN which stands for Amazon Standard Identification Number is used to identify products listed on the platform. Using the following tool, vendors can search all listings associated with their ASIN number or their URL.

Headline Search Advertisements are also open to Amazon Brand Registry members. These are advertisements that appear at the top of other search results, listing 2 to 3 products and the brand name associated with them. They've been proven to have a higher conversion rate than Amazon PPC Sponsored Ads so they're worth taking advantage of as a vendor.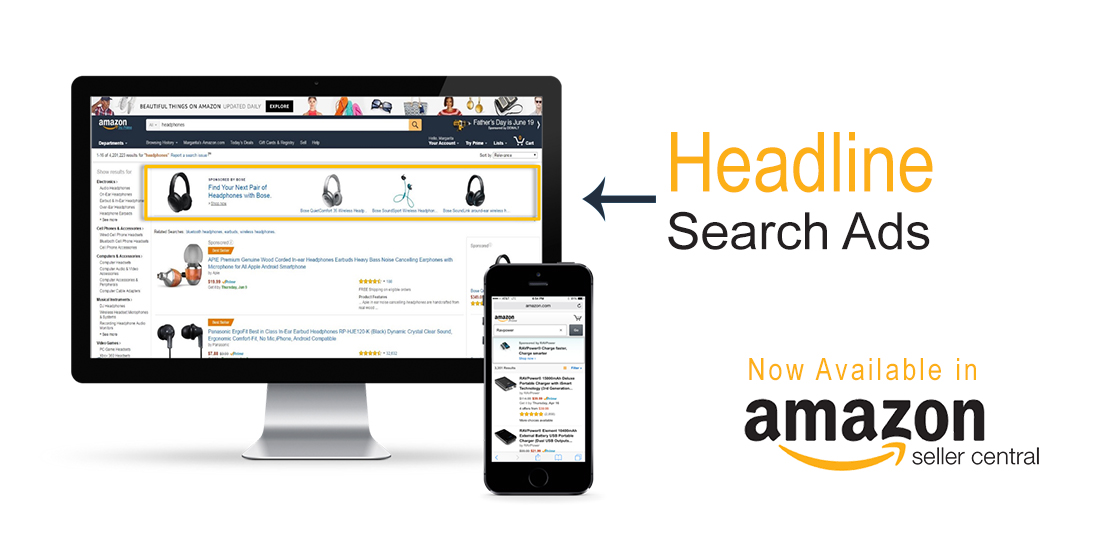 2) Protection for a Vendors Brand's Reputation.
Through the Amazon Brand Registry program vendors can be alerted about various different infringements against their products or brand name. Amazon uses a machine learning software to quickly and effectively catch any questionable postings as soon as possible. Members are also able to use the previously mentioned search tools and thereafter, report listings themselves to a team of investigators available 24/7.
In addition, Vendors will regain access of their respective Amazon Buy Box. When sellers are incorrectly either selling a brands product or using the brand name, vendors can contact Amazon and thereafter, have the sellers buy box revoked.
3) Access to the Transparency Program
If a vendor chooses to opt-into the Transparency program, they can be further equipped against fraudulent product listings. This helps protect both the reputation of their brand and their customers. Below is a breakdown of how it works:

Amazon will scan each product prior to sending it to customers to verify that only authentic items are being shipped. This is offered to sellers who use either Fulfillment by Amazon (FBA) or a third party to meet their fulfillment needs. To learn more about how Amazon Prep can assist with FBA needs or incorporating the transparency program click here.
Customers afterwards have access to the Amazon Transparency app that will help them verify that the products they receive are legitimate.
Customers can also receive access to specific products details such as manufacturing date or place to further add transparency between the vendor and the customer in their buying process.
How much does Amazon Brand Registry cost?
It may shock many that the above benefits can be reaped for the low-cost of $0. No, that is not a typo. Amazon Brand Registry is a free service as long as the vendor's brand has a registered trademark in the country they are currently conducting business in.
Next Steps: How to get started with Amazon Brand Registry
First, sellers should create an Amazon Seller Central or Amazon Vendor Central account if not already registered for one. Thereafter, each seller should look into how to establish their brand as a registered trademark within their respective country. This will often cost money but is worthwhile to look into for both the legal protections it offers and to reap the many benefits of the Amazon Brand Registry program. These trademarks can be either a text-based mark or an image-based mark that includes words, letters or numbers. Amazon breaks down the difference below:
Afterwards, Amazon sellers can visit the following link  and begin the registration process themselves. For assistance navigating the application process contact AMZ prep for our Brand Registry Services.
Categories
Please check that this widget Google Reviews has a Google Place ID set.